Voice trading in the cloud — digital transformation of private wires
With the experience of working with financial services customers, Google recently partnered with a large interdealer broker to co-innovate on the modernization of their core voice trading infrastructure. Their motivation was simple: they wanted traders to be able to work remotely, make it easy to onboard new locations with resilience and scale, and to enable new capabilities such as voice transcription and analytics. At the same time, any new cloud-based voice network needed to be highly reliable, fast, and of course, secure. Read on to learn about the solution that Google came up with.
Voice trading today
In the voice trading market between interdealer brokers, banks and the buy-side, leased lines and point-to-point private wires are used as a core trading function to enable constant communication between counterparties, ensuring consistent and ongoing revenue for assets traded off-exchange.
Trading industry technology has progressed tremendously. However, private wire infrastructure for voice trading has largely been left behind in terms of modernization. Despite advances in electronic trading, the majority of voice-based trading still runs on traditional technologies such as time-division multiplexing (TDM) lines. These lines rely heavily on specialized, location-bound hardware interfaces and gateways.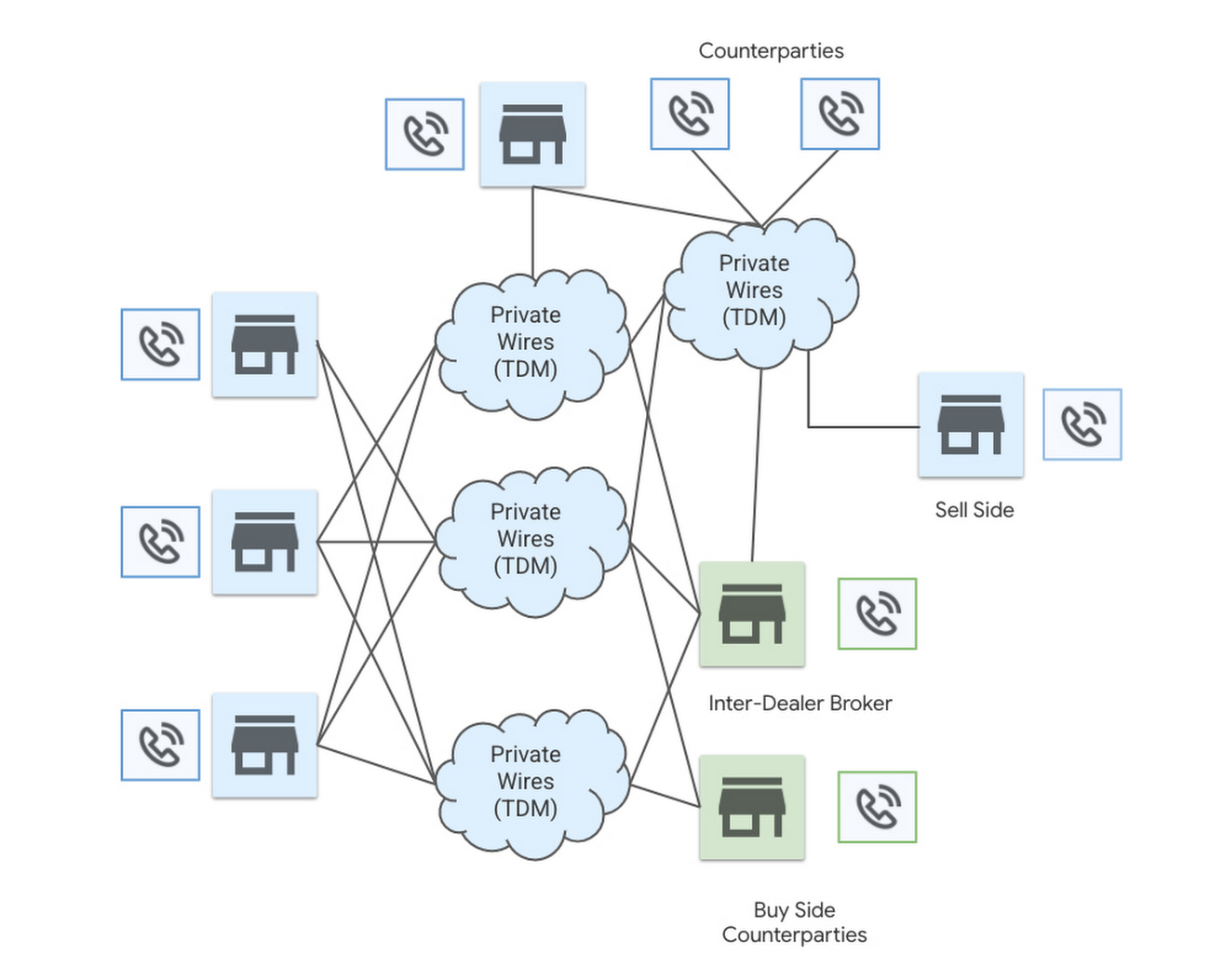 Brokers used to be largely office-based and desk-bound, so there was not too much of a motivation to move their private lines to the cloud. Covid-19 changed all that, driving the need for more software-defined solutions based on modern protocols for voice brokerage. In particular, work from home has spurred a move away from fixed point-to-point circuits and towards internet telephony infrastructure. Post-pandemic, the rise of hybrid work will ensure that demand for cloud-based solutions persists.
From a cost and revenue perspective, migrating away from TDM and bringing private wires onto the cloud by working with your Communication Service Provider and Google Cloud can introduce big cost savings. Instead of paying a fixed cost per line, you move to a consumption model, and only pay for data egress on the data necessary for the voice transit.
Transforming the voice trading market
Google Cloud's Network Connectivity Center is a complementary addition to the voice trading market. Network Connectivity Center makes it possible to connect on-premises networks to cloud leveraging Google's global network for data transfer, and enables high-performance voice data connectivity between on-premises locations such as interoffice, banks, and buy-side counterparties, with the flexibility to easily add new locations on the fly where and when needed.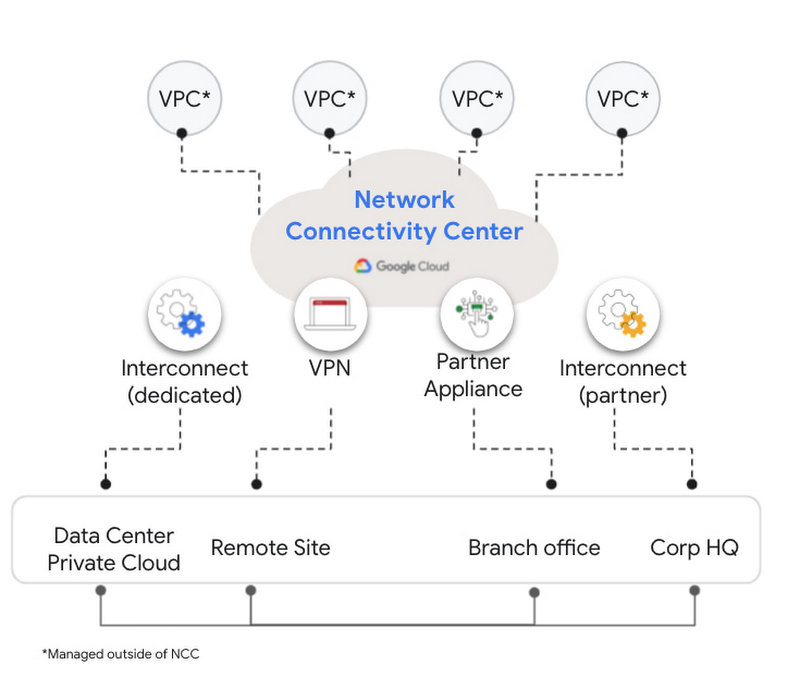 By moving the financial market's voice network into the cloud and specifically Google Cloud, they enable agility, performance, flexibility and cost savings. Google Cloud's private, software-defined network is the broadest reaching network of any cloud provider enabling huge performance, availability and latency gains. At the same time, the ability to transcribe and perform analytics on voice data helps to create new profit streams from new "indicative" market data feeds and generate fully compliant historical records. 
The solution
Here's an overview of how Google meet the needs of modern trading desks by leveraging the Communication Service Provider's (CSP) last mile in conjunction with Google Cloud's Network and Google Cloud's AI/ML capabilities. Read on to learn more about the design.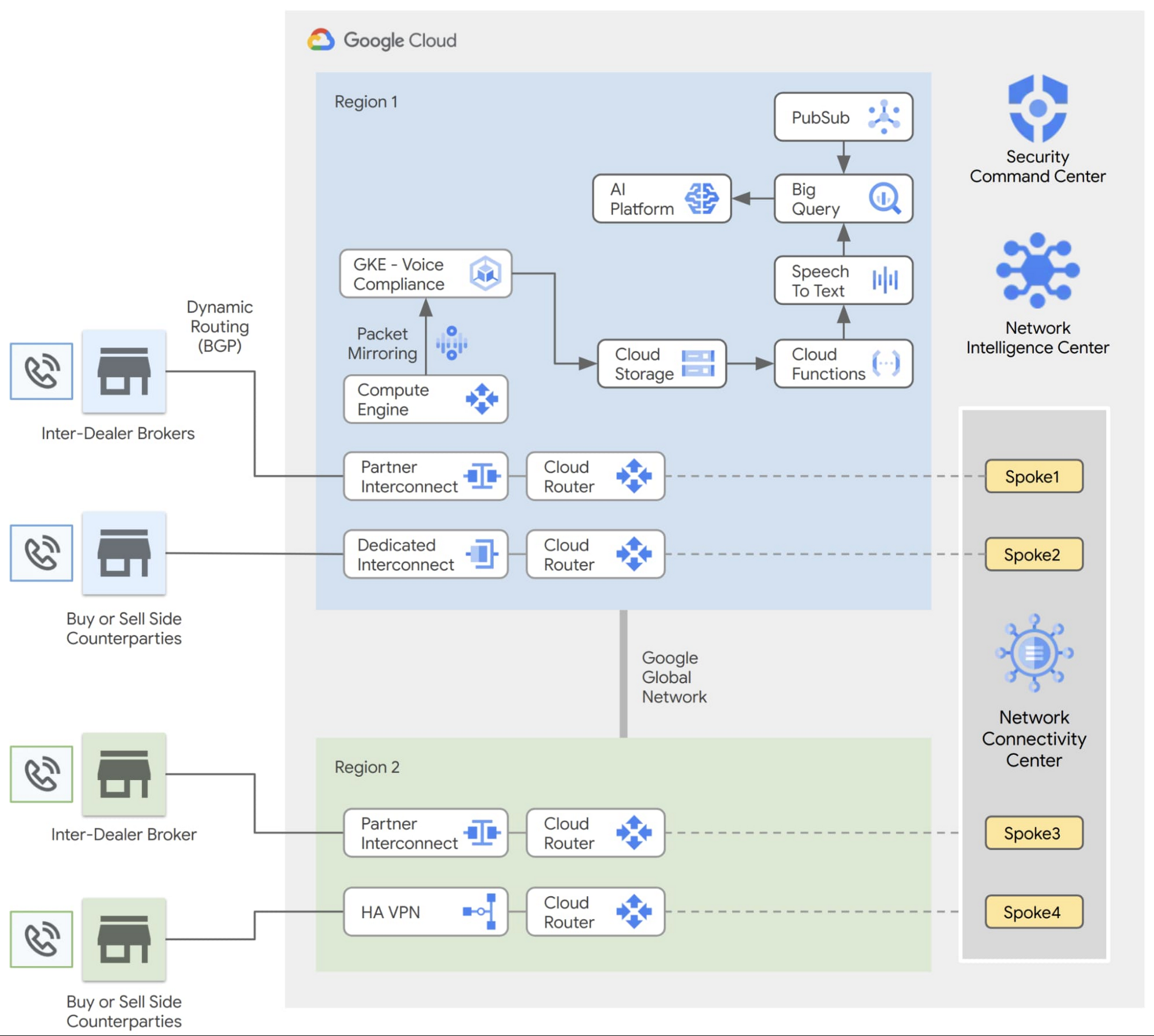 Using Google's global network for site-to-site connectivity
Network Connectivity Center uses a hub and spoke model that enables data transport between on-premises sites using Google's global network. The hub is a central connectivity management plane that provides a simple way to connect attached spokes. A spoke is a network resource that represents an on-premises location such as an inter-dealer broker office, or buy and sell-side entities in the voice trading ecosystem. The spoke network resources can be VLAN attachments, VPN tunnels, or network virtual appliances. All spokes are associated with Cloud Routers that propagate dynamic routing information across all other spokes. This allows SIP and RTCP traffic to be transported between sites via the Google global network.
Network Connectivity Center gives a single place to manage global connectivity policies and enables on-demand connectivity between different customer locations across Google Cloud, multi-cloud networks, and on-premises networks. As such, it enables very easy and flexible connectivity for new offices for trader voice or connections to clients by onboarding them as a spoke.
Best-in-class network security, forensics and telemetry
Building on the high-performance and low-latency Google global network, Google can leverage a suite of security solutions to deliver best-in-class enterprise security required for the voice trading market.  
Organizational policies can be leveraged as a central control to configure restrictions on how your organization's resources can be used. We can use organization policy constraints to:
Limit resource sharing based on domain. For example, we can limit the set of identities of counterparties that interact with the voice trading system.
Restrict the physical location of newly created resources to ensure data residency requirements are met for financial regulatory and compliance needs that require control on where data is captured and processed.
Restrict the VPN peers that connect to the Network Connectivity Center hub as spokes.
Next, hierarchical firewall policies can be harnessed to create and enforce a consistent firewall policy across the entire GCP organization. This ensures that the voice network traffic is allowed to and from authorized sources and destinations only. These policies are enforced at the organizational level.
The Cloud IDS intrusion detection service can be used to create full visibility into network traffic to provide threat detection for intrusions, malware, spyware and other lateral movement attacks. This enables the voice trading system on Google Cloud to meet the requirements of advanced threat detection and compliance.
Lastly, Network Intelligence Center can be leveraged as a single console from which to manage Google Cloud network visibility, monitoring, and troubleshooting. Visibility into latency and packet loss metrics is critical in delivering a world-class voice trading solution. Network Topology can be used as a visualization tool that shows the topology and associated metrics of all the connectivity between inter-dealer brokers, or buy- and sell-side on the voice trading system. Furthermore, fine-grained visibility into packet loss and latency metrics can be monitored in the Performance Dashboard.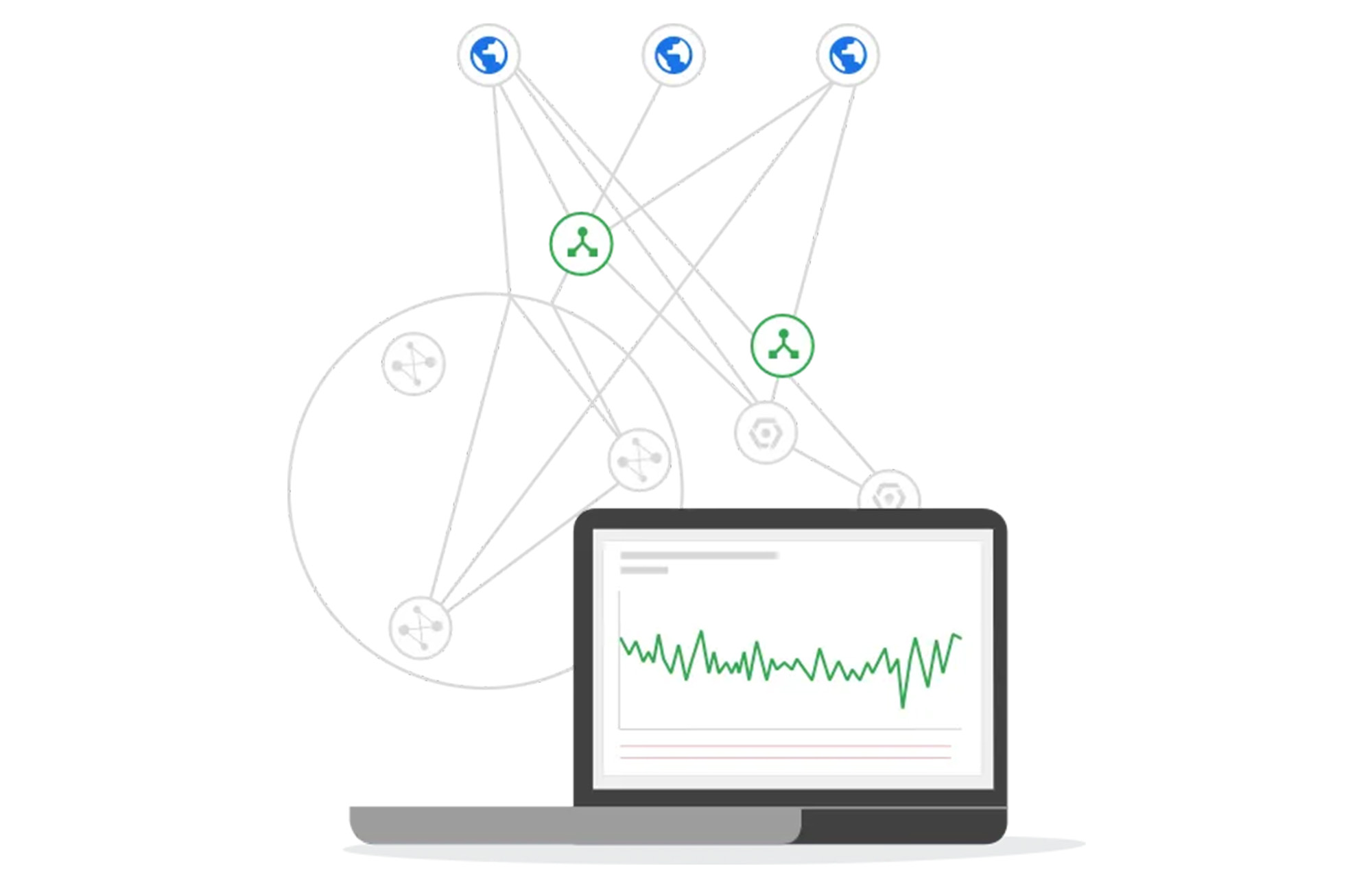 Compliance, analytics and AI/ML
By bringing voice trading infrastructure and private wires into Google Cloud, they enable capture of voice data off the wire. This capture is required from regulators for risk mitigation and for trade record history as part of CFTC Regulations 23.201-203. From these live capture and historical recordings, we are able to leverage Google Cloud AI services such as the Speech-to-Text (STT) API to turn voice and audio data into transcribed text. Natural Language Processing services such as Natural Language API and Vertex AI AutoML Natural Language can then be utilized to generate rich and useful data that can be leveraged for analytics. 
Shifting private wires to the cloud is not only a cost-reduction exercise but also a profit-making initiative. The data and insights generated from the voice capture are incredibly valuable for financial institutions, regulators and research firms, enabling full reconstruction of indications of interest (IOI), trade history and creating a new source of indicative market data. The generated data can then be leveraged to create new insights through analytics, and in addition you can begin to create new offerings such as valuable OTC market data feeds, producing new revenue streams for the broker. Meanwhile, having the full set of trade data available greatly aids in regulatory compliance with MiFID II, AML, Senior Manager Regime, etc.
Secure voice trading in the cloud is now a reality
The end-to-end cloud solution you need to replace traditional, dedicated private voice lines is finally here, and many financial services organizations are ready to jump on the bandwagon. Google Cloud offers a full complement of technologies to not only effectively replace dedicated private voice infrastructure, but to augment it with new value-added capabilities as well. To learn more about private wire infrastructure in the cloud, keep your eye out for an upcoming white paper.