Introducing Google Cloud Backup and DR
Backup is a fundamental aspect of application protection. As such, the need for a seamlessly integrated, centralized backup service is vital when seeking to ensure resilience and recoverability for data generated by Google Cloud services or on-premises infrastructure.
Regardless of whether the need to restore data is triggered by a user error, malicious activity, or some other reason, the ability to execute reliable, fast recovery from backups is a critical aspect of a resilient infrastructure. A comprehensive backup capability should have the following characteristics: 1) centralized backup management across workloads, 2) efficient use of storage to minimize costs, and 3) minimal recovery times.
To effectively address these requirements backup service providers must deliver efficiency at the workload level, while also supporting a diverse spectrum of customer environments, applications, and use cases. Consequently, the implementation of a truly effective, user-friendly backup experience is no small feat.
And that's why, today, Google are excited to announce the availability of Google Cloud Backup and DR, enabling centralized backup management directly from the Google Cloud console.
Helping you maximize backup value
At Google Cloud they have a unique opportunity to solve backup challenges in ways that fully maximize the value you achieve. By building a product with the customers firmly in mind, they've made sure that Google Cloud Backup and DR makes it easy to set up, manage, and restore backups.
As an example, Google placed a high priority on delivering an intuitive, centralized backup management experience. With Google Cloud Backup and DR, administrators can effectively manage backups spanning multiple workloads. Admins can generate application- and crash-consistent backups for VMs on Compute Engine, VMware Engine or on-premises VMware, databases (such as SAP, MySQL and SQL Server), and file systems. Having a holistic view of your backups across multiple workloads means you spend less time on management and can be sure you have consistency and completeness in your data protection coverage.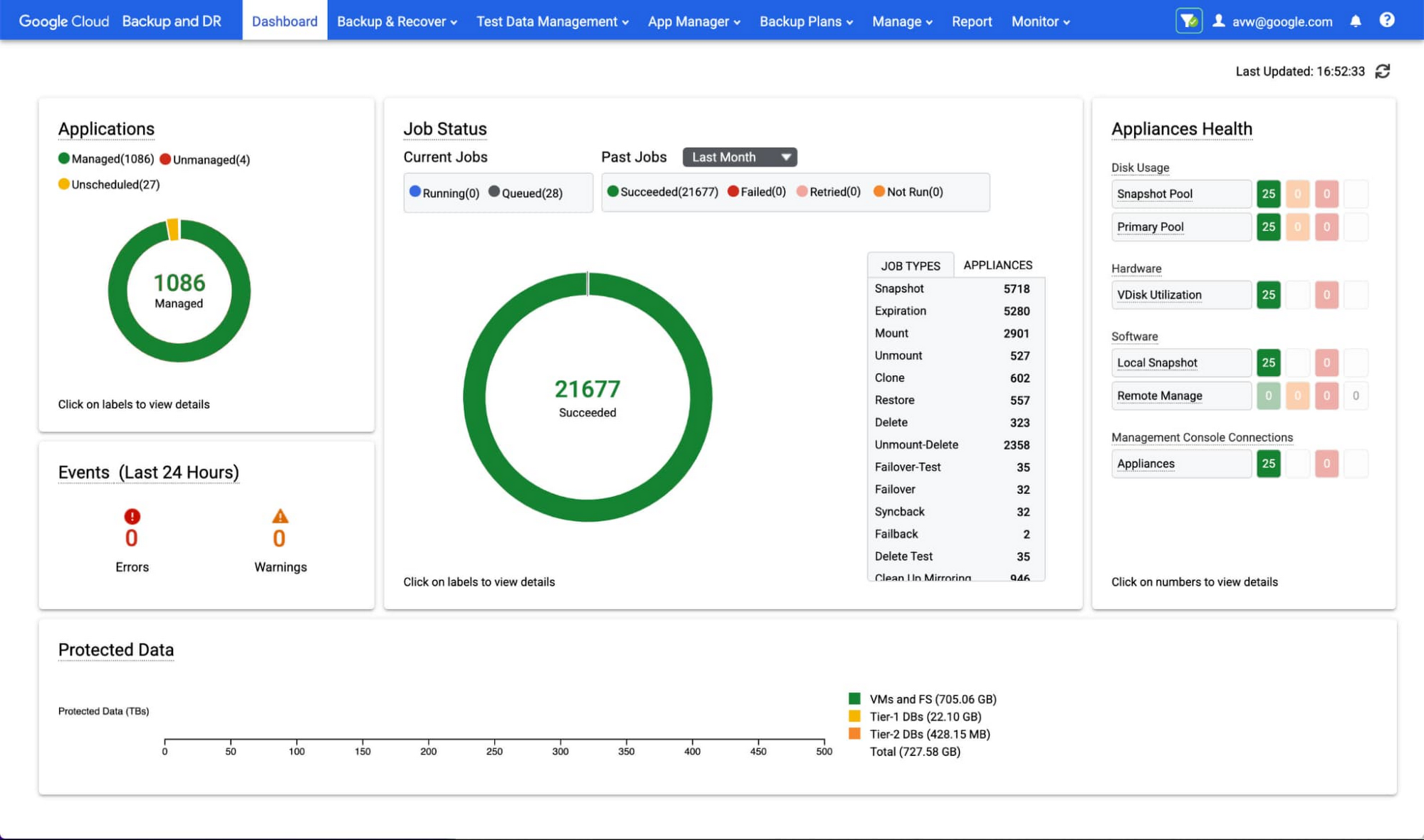 Even better, Google Cloud Backup and DR stores backup data in its original, application-readable format. As a result, backup data for many workloads can be made available directly from long-term backup storage (e.g., leveraging cost-effective Cloud Storage), with no need for time-consuming data movement or translation. This accelerates recovery of critical files and supports rapid resumption of critical business operations.
Making sure you minimize backup TCO
Similarly, Google also took care to help you minimize total cost of ownership (TCO) of your backups. With this objective in mind, they designed Google Cloud Backup and DR to implement space-efficient "incremental forever" storage technology to ensure that you pay only for what you truly need. With "incremental forever" backup, after Google Cloud Backup and DR takes an initial backup, subsequent backups only store data associated with changes relative to the prior backup. This allows backups to be captured more quickly and reduces the network bandwidth required to transmit the associated data. It also minimizes the amount of storage consumed by the backups, which benefits you via reduced storage consumption costs.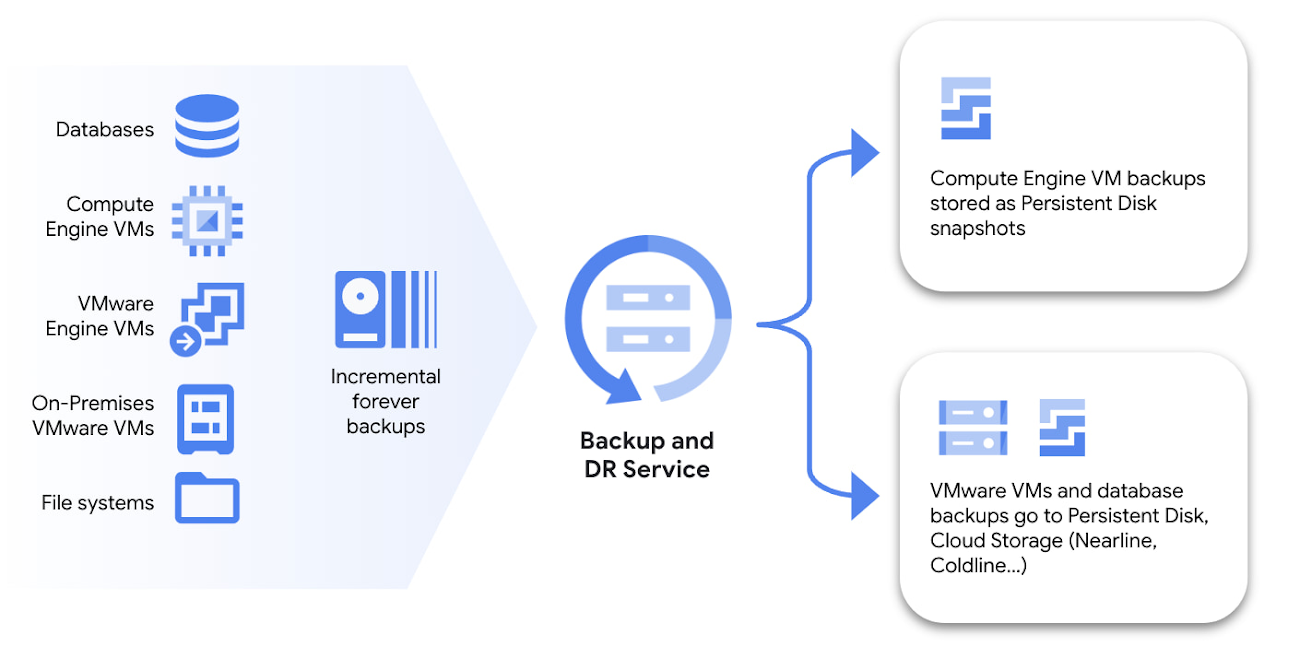 In addition, there is flexibility built in to allow you to strike your desired balance between storage cost and data retention time. For example, when choosing to store backups on Google Cloud Storage, you can select an appropriate Cloud Storage class in alignment with your needs.
Start reaping the benefits
The introduction of Google Cloud Backup and DR is a reflection of Google's broader commitment to make cloud infrastructure easier to manage, faster, and less expensive, while also helping you build a more resilient business. By centralizing backup administration and applying cutting-edge storage and data management technologies, they've eliminated much of the complexity, time, and cost traditionally associated with enterprise data protection.
But don't take their word for it. See for yourself in Google Cloud Console. Take advantage of $300 in free Google Cloud credits, give Google Cloud Backup and DR a try in the console, and enjoy the benefits of cloud-integrated backup and recovery.